01 Mar

Pneumatic Actuators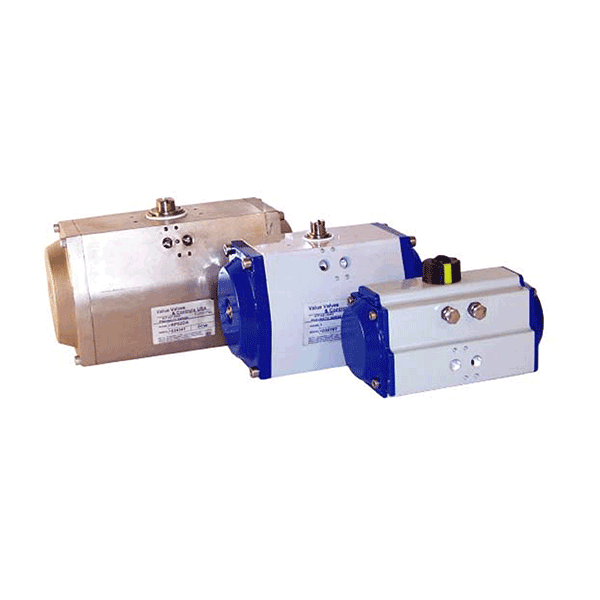 With a pneumatic valve actuator, energy is transferred into mechanical motion. Depending on the type of actuator, the movement is either linear or rotary. Compressible air is what makes pneumatic drives robust and flexible. For pneumatic actuator operations, the pneumatic cylinder contains compressed air that applies force to a cylinder piston for motion in a specific direction. The motion of the piston converts to the moving parts by means of the piston rod or magnetic friction closure.
There are two types of pneumatic actuators: single-acting or double-acting. The compressed air has a 12 bar capacity which generates either linear or rotary motion. Speeds vary between 10 mm per second or 3 m per second.
DESCRIPTION
Pneumatic Actuator Specifications:
When choosing a pneumatic valves actuators for a specific application, limitations and specifications must be taken into account. It must be able to withstand the weight, pressure, and heat of a given environment. Some materials or environmental conditions may be corrosive on the body materials.
Size: 214 in lbs-81,000 in lbs.
Temperature Range: -30℉~300℉
Pressure Rating: 40-150 PSIG
Body Materials: Hard Anodized/Powder Coated Aluminum, Nickel Infused Aluminum, 304SS, 316SS, Teflon Coated
Pneumatic Actuator Design Notes:
To meet the customer requirements in flow control systems, Value Valve is constantly developing our products to be a superior product choice in server applications. Value Valve created a new design for Rack and Pinion and Scotch Yoke Pneumatic Actuators by improving the materials as well as the mounting structure for improved motion.
Value Valve is one of the few companies that has been certified with the Safety Integrity Level 3 according to IEC 61508-1 and ISO 9001 by TUV for the VF-9 series.
Benefits of Our SIL-3 Valves/Actuators:
Any part in an application must be able to withstand the conditions of the environment and the repetitive nature of the work, and the pneumatic actuator is no exception. Because the best quality and security are our top priority, we offer a pneumatic actuator that provides superior SIL performance.
SIL stands for Safety Integrity Level. A SIL is a measure of safety system performance, in terms of probability of failure on demand (PFD). . There are four discrete integrity levels associated with SIL: SIL 1, SIL 2, SIL 3, and SIL 4. The higher the SIL level, the higher the associated safety level, and the lower probability that a system will fail to perform properly. For the process industries, SIL 4 systems are so complex and costly that they are not economically beneficial to implement.
Selecting the appropriate SIL level must be done carefully. Costs can increase considerably to achieve higher SIL levels. Typically, in the process industry, companies accept a SIL 2 rating, but if you can obtain a Butterfly Valve or Automated Butterfly Valve Package with a complete Standard SIL-3 rating, utilizing our RP series actuator with little or no increase in cost, then that is the logical decision.
| | | |
| --- | --- | --- |
| Safety Integrity Level | Risk Reduction Factor | Probability of Failure on Demand |
| SIL 4 | 100,000 to 10,000 | 10-5 to 10-4 |
| SIL 3 | 10,000 to 1,000 | 10-4 to 10-3 |
| SIL 2 | 1,000 to 100 | 10-3 to 10-2 |
| SIL 1 | 100 to 10 | 10-2 to 10-1 |
You can see a SIL-2 valve/actuator is 10X more likely to fail than a SIL-3
Our Pneumatic Actuator Features Include: 
RPB features an excellent design for Butterfly valve applications. The RPB is a state-of-the-art design that features durability, high reliability, a high cycle life, and requires little to no maintenance.
The standard extruded Aluminum body (ASTM 6005) offers maximum corrosion resistance with its hard anodized and polyester powder coating. Optional features include Nickel Infused Aluminum for greater lifespan in more demanding applications, or 304SS Body and Internals or 316SS Body and Internals for the most demanding applications. Teflon-coated bodies are another option for special applications.
The pinion is machined with precision and consists of Alloy Steel along with Nickel Plated for corrosion resistance. The SS versions utilize 304SS or 316SS pinions for Maximum corrosion resistance.
The Bottom Pad and Top Stem are standard ISO-5211/ Namur, compared to others with the proprietary stem dimensions. This allows the end-user to opt for other actuators should there be a preference or to replace a damaged actuator with any ISO-5211 actuator if there is an immediate need.
Large Delrin pads are used to stabilize the racks and provide an extremely long life with minimal friction and without lubrication.
O-rings seals are standard NBR and are available at minimal cost in Viton. These provide bubble-tight shutoff to 120 PSIG.
Dual balanced Racks are standard die-cast aluminum and hard anodized for long service life to 2,000,000 cycles
Travel stops on the RPB series are characterized for Butterfly Valves with a single travel stop. This allows for adjustment in the closed position while travel stops can be extended to limit the opening or closing travel from 0-90 Degrees.
The RPB Pneumatic Actuator comes standard with a top position indicator.
Cycle life up to 2,000,000 cycles.
Contact Us Today and Receive a Quote for Our Actuators
Our RPB Series pneumatic actuators are of excellent quality and made with superior workmanship. Each is a compact efficient unit. The state-of-the-art design features exceptional reliability, durability, a higher life cycle, and ease of maintenance.
Protective coating makes these units suitable for corrosive environments. RPB actuators are designed to be maintenance-free. They provide years of reliable service and continuous motion without the need for lubrication. However, It's good practice to check for loose bolts, air leaks. In the case of a 3-way solenoid valve, spring sets may need to be replaced.
Not sure which pneumatic actuator is the best for your application? Contact us today for a customized quote.